In his last two public appearances, Daniel Ortega put all his energies into making clear his position with respect to foreign policy: he defends Russia and its invasion of Ukraine at all costs, while blaming the United States and other European countries for committing "crimes against humanity". According to analysts consulted, the actions of the Sandinista leader obey more to personal interests than to the economic interests of the nation.
During the celebration of the 44th anniversary of the Sandinista Revolution, on July 19th, Ortega justified why he was the only president out of 60 countries that did not sign a resolution condemning Russia's invasion of Ukraine during the III Summit of the European Union and the Community of Latin American and Caribbean States (EU-Celac). Ortega accused the United States of giving bombs to Ukraine to attack Russia and called Ukrainian President Volodymir Zelenskyy a "fascist" and a "Nazi".
In his last appearance, on July 31st, Ortega accused NATO (North Atlantic Organization), formed by Europe and North America, of leading this "world war" to "take over Russia". The president said that " imperialists on Earth want to install themselves as rulers".
The two appearances took place during the strengthening of relations with authoritarian countries that presidents have led in the past few months. In addition to Russia, Ortega and Murillo have approached North Korea, Iran, Syria, Burkina Faso, besides the reestablishment of relations with China for which it had to break ties with Taiwan in 2021; and the already historic ties with Cuba and Venezuela.
A review by DIVERGENTES of the main drivers of the country's economic income, included in transfers and donations of the General Budget of the Republic 2023, export statistics and remittances' countries of origin, shows that the economic contribution of this block of allies is minimal. For example, five of these countries (Russia, Venezuela, Cuba, China and Burkina Faso) represented, in the first six months of this year, only $26,591,144.5 million in value of exports all together. During the same period, exports to the United States reached $945,997,924.4 million. In other words, exports from all the authoritarian countries represent less than 3% compared to exports to the United States.
On the other hand, none of these countries appear in the 2023 External Donations and Loans by Origin Budget. Among the donations, Kuwait appears with a donation of $1.7 million for school improvements in different parts of the country. Among the entities that grant loans are Exports-Imports Bank India with an amount of $7 million for the maintenance of a health center and a hospital, and there is another allocation from the Organization of the Petroleum Exporting Countries Fund for International Development with $10.5 million. The Inter-American Development Bank (IDB) and the World Bank, of which the United States is a majority partner, are financing the budget with more than $105 million. These two entities provide close to $7 million in donations.
Regarding the behavior of remittances, the last report published by the Central Bank of Nicaragua (BCN) last July 31st, pointed out that remittances amounted to $2,215 million, 58.6% more than those received in the same period last year. Statistics in this area are more transparent: the main countries of origin of remittances continue to be the United States (83.2 %), Costa Rica (6.6 %) and Spain (5.6 %). These three countries together accounted for 95.4% of total remittances.
Alliances with dictatorships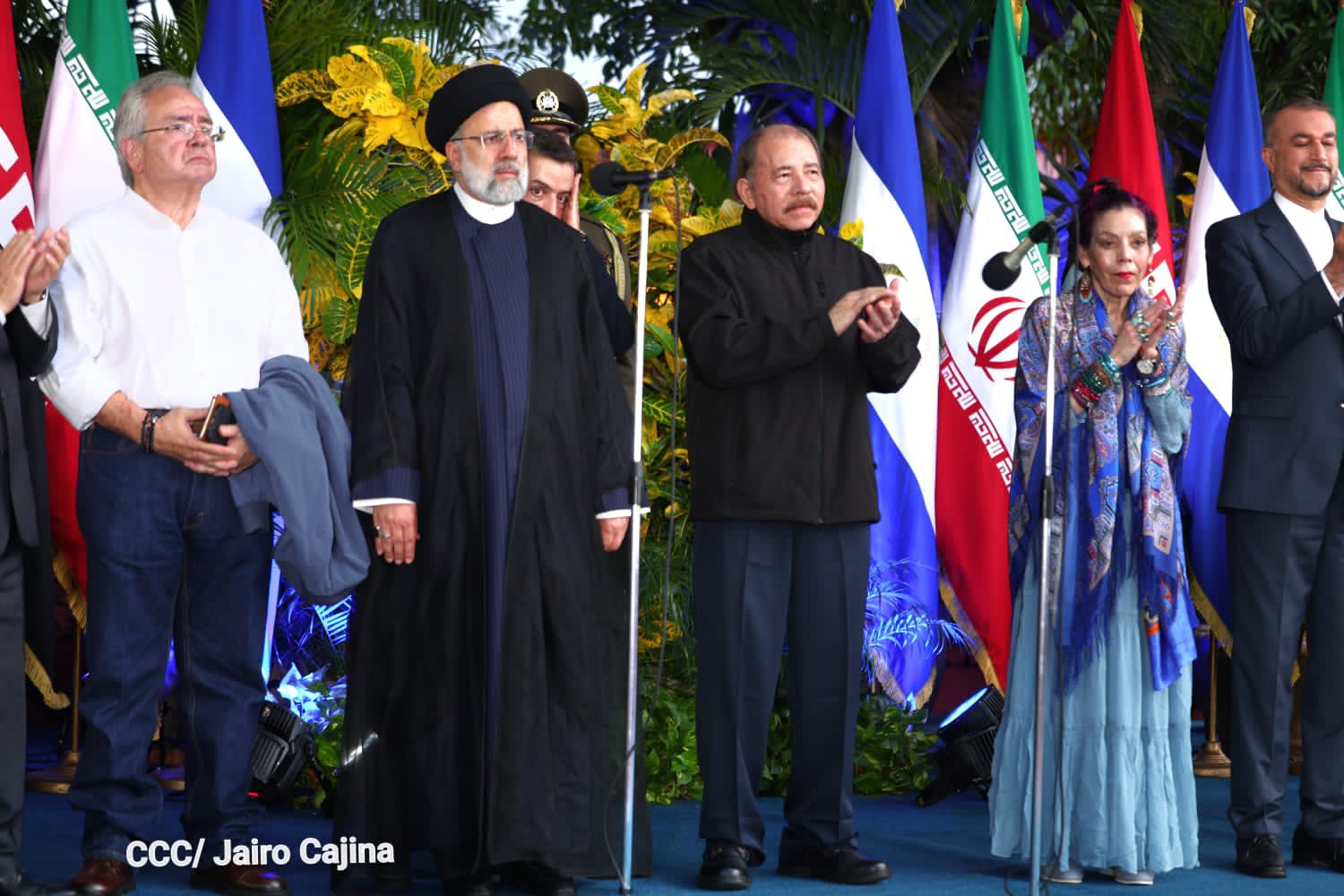 Last week, Rosario Murillo announced that she will open an embassy in North Korea, and that North Korea will send a representative to Nicaragua. Although the Sandinistas have been allied with North Korea since the 1980s (relations were suspended when they lost power in 1990, and resumed in 2007), there were no diplomatic representatives in both countries before.
Another alliance that has been celebrated is the closeness with Iran. In mid-June, the leaders received Iranian President Ebrahim Raisi "with honors". In December 2022, Foreign Minister Denis Moncada Colindres made a visit to this country, met with the president, to whom he said that "Nicaragua and Iran are friends and brothers". Throughout last year, 14 agreements were signed between these two countries "for the strengthening of bilateral relations", including pharmaceutical cooperation and sanitary requirements for beef imports. During Raisi's visit to Nicaragua, three memorandums of agreement were signed in which mutual solidarity is prevalent, but they do not indicate major actions to strengthen cooperation.
Last week, Ortega and Murillo signed an agreement on "political consultations and cooperation" with the Burkina Faso regime, which sent a representative to the July 19th event. It should be noted that this country is currently governed by a military regime, which has the country under the control of armed groups.
At the same time, Ramón Moncada Colindres was also appointed as Nicaragua's ambassador to Iran and Syria, two countries in open confrontation with the United States in recent years. Ramon is the brother of Foreign Minister Denis Moncada Colindres.
No gain in relations with China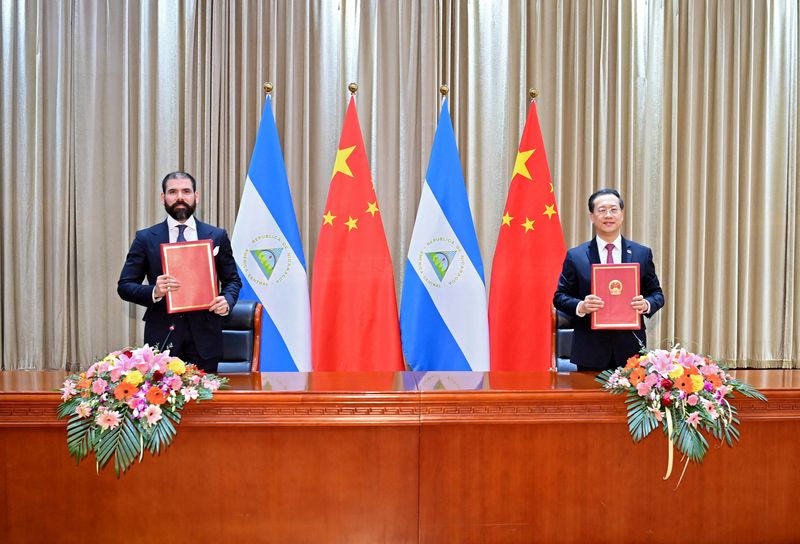 Last Wednesday, the president of the Central American Bank for Economic Integration (CABEI), Dante Mossi, said that Central American countries have not obtained any significant gains from their relationship with China after breaking ties with Taiwan. Mossi said that an investigation called Taiwan Paper was carried out, which proves the argument that none of the eight countries, including Nicaragua, have had significant gains in terms of trade or investment.
Currently, CABEI is one of the major financiers of the Ortega-Murillo regime. More than $308 million is allocated in the 2023 budget. It is worth noting that Taiwan is CABEI's largest shareholder, and "its impact on the region overshadows any commercial impact of any other country in Asia," according to Mossi.
Desperate for international recognition
If economic contribution is not one of the main reasons to strengthen these relations, why does the Ortega-Murillo regime insist on reactivating them?
Pedro Fonseca, an expert in international relations, believes that this happens for two reasons. First, Nicaragua finds itself at the diplomatic level with half of the Western Hemisphere against it due to the accusations of human rights abuses and crimes against humanity since 2018. The other reason is "the constant search for legitimacy and support" that it can only find with countries that have committed crimes or irregularities in terms of democracy and political systems similar to those of Nicaragua's regime, Fonseca said.
El analista e investigador, Tiziano Breda, expresó que este tipo de alianzas ocurren por intereses geopolíticos, por encima de los económicos. "Estos acuerdos con estos países sirven para mostrar reconocimiento a nivel político, es decir para aparentar cosas ante la opinión internacional", dijo Breda.
The analyst and researcher, Tiziano Breda, expressed that these types of alliances occur due to geopolitical interests, above economic ones. "These agreements with these countries serve to show recognition at the political level, that is to say, to make appearances before international opinion," said Breda.
For Fonseca, this foreign policy -with which neither economic nor political benefits are achieved and which places Nicaragua against its financial and commercial allies- "proves that it is being directed for the personal interests of those who govern the country and is not being directed for the national interest".
He said that with these agreements the Ortega-Murillo regime manages to create a show, such as the recent visit of the president of Iran. "This show allows to demonstrate to the international community a kind of bond and union between countries, which in the end does not exist. Therefore, it legitimizes the governments, and apparently gives indications that there is a close relationship when in fact there is not," said Fonseca.
---
La información que publicamos en DIVERGENTES proviene de fuentes contrastadas. Debido a la situación en la región, muchas veces, nos vemos obligados a protegerlas bajo seudónimo o anonimato. Desafortunadamente, algunos gobiernos de la región, con el régimen de Nicaragua a la cabeza, no ofrecen información o censuran a los medios independientes. Por ello, a pesar de solicitarlo, no podemos contar con versiones oficiales autorizadas. Recurrimos al análisis de datos, a las fuentes internas anónimas, o las limitadas informaciones de los medios oficialistas. Estas son las condiciones en las que ejercemos un oficio que, en muchos casos, nos cuesta la seguridad y la vida. Seguiremos informando.