An unusual number of charter flights landed at Managua's Augusto C. Sandino International Airport in October: an average of 18 planes each day, mostly from Port-au-Prince, Haiti, the Dominican Republic and Providenciales Island.
The air terminal, which since the socio-political crisis that began in 2018 has suffered a notable drop in travelers, was again packed, this time mostly with thousands of Haitians who have found in Managua not only a migratory leap to reach the United States, but a shortcut to avoid the dangerous passage through the jungle of the Darién Gap.
As with Cubans, the government of Daniel Ortega and Rosario Murillo does not require a visa for Haitians to enter Nicaragua. That has been the main motivation for establishing a direct connection from Port-au-Prince to Managua, which did not exist until the arrival of these charters.
The opening of the Augusto C. Sandino airport represents a profitable business for the Sandinista regime: to take advantage of the desperation of thousands of migrants to reach the United States. According to several airport sources and others linked to the charter business consulted for this article, Redacción Regional has been able to document the official and unofficial charges made by airport authorities.
To begin with, explains the airport source, each plane landing at Augusto C. Sandino is charged a landing fee, which varies between commercial and private flights. An airline usually pays a landing fee of approximately US$500 in Managua.
However, landing a charter flight costs between US$2,000 and US$3,000, depending on the size of the aircraft and the airport services required. That is to say, use of the jet bridge, use of stairs, stevedores to unload luggage, refueling, use of the hangar, among other services.
"These charters that are coming from Haiti are charged an average of US$2,000, basic, because there is no baggage handling. People come with just a backpack and get off the plane. The landing fee is also related to the size of the plane. The ones coming from Port-au-Prince have been mostly small: Embraer 175 type. They fit between 50 and 75 seats", explains the source associated with the charter business.
Between Friday, October 20 and Sunday, October 22, 36 charters landed in Managua from Haiti, a country in the midst of a serious socio-political crisis since July 2021, when President Jovenel Moïse was assassinated in his home by a commando of Colombian mercenaries.
Faced with a collapsed state and at the mercy of criminal gangs, Haitians in their eternal misery are massively fleeing the island… and Managua, as happens with thousands of Cubans, is the most direct route to get into Central America and up to the southern border of the United States. What is necessary is to bring dollars with them, a few thousands. Tickets from Port-au-Prince cost between 1,000 and 3,000 dollars one way.
If we take into account the daily average of 18 charters landing at the Augusto C. Sandino airport from Haiti, the Dominican Republic and the Providential Islands, with a base cost of two thousand dollars per landing fee, we are talking about 36 thousand dollars a day. That is, approximately 1 million 80 thousand dollars per month. However, the estimate may vary because charters from Cuba continue to be registered, as well as three others from Kyrgyzstan that passed through Bulgaria and had a layover in Managua in September. They were larger aircraft: Airbus 330.
Airport comes out of debt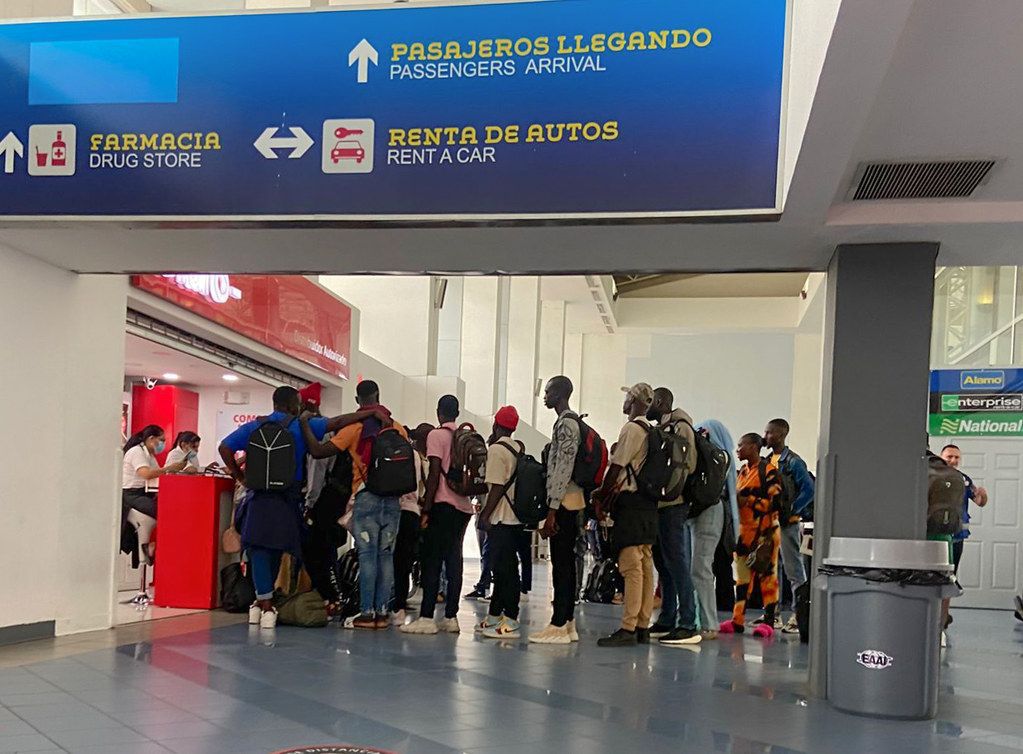 A risk rating maintenance report published by Empresa Administradora de Aeropuertos Internacionales (EAAI) reveals that the financial crisis suffered by the Augusto C. Sandino Airport ended in 2022, when its revenues grew by 95%.
That year, thanks to the massive arrival of Cubans on charters and commercial flights, as well as the return of some U.S. airlines to Managua after the pandemic, the company generated profits of US$4.16 million.
The airport was in crisis since, as a product of the socio-political crisis that began in 2018, tourism dropped. While the excessive requirements that the Nicaraguan aeronautical authorities imposed on airlines after covid-19 delayed the restart of their operations and others did not return to service.
The Ortega-Murillo regime eliminated visa requirements for Cubans in November 2021 and that generated a migratory wave through the air bridge between Havana and Managua. Thousands of Cubans arrived on charters and did not return to the island, but instead headed to the United States by land. Data from the Central Bank of Nicaragua (BCN) prove this difference between boardings and unboardings during 2022 at Augusto C. Sandino: 634,800 passengers entered Nicaragua by air, but only 312,400 left in the same way.
The massive arrival of Cubans ceased in January 2023 when the government of Joe Biden closed the borders to irregular migrants and made it a condition of entry to apply for Humanitarian Parole. Although the flights of Cubans have persisted, they have decreased in intensity.
However, Managua is now receiving a massive amount of Haitians. According to Manuel Orozco, researcher at Diálogo Interamericano and specialist in migration issues, 31,000 Haitians have landed in Managua in the last few weeks.
The number of passengers passing through the Augusto C. Sandino Airport border post is key to another aspect of the Ortega-Murillo migration business. The first, denounces the source linked to the charter industry, is that Nicaragua imposes a tax on all passengers returning to their destination of origin. The tax is called "Terminal fee for departing passengers".
Its price is one of the highest in the region and is US$44.23, according to the EAAI website. Usually, this tax is included in the price of round-trip tickets. When it is a one-way ticket, i.e. an entry ticket as purchased by thousands of migrants, it used not to be charged.
"However, they have found a new way to make more money by charging the departure tax even though the charters return practically empty. This is new, they started doing it a few months ago with flights coming from Haiti. And that is absurd because most of those passengers leave by land to the United States," the source said.
If you multiply those 44.23 dollars by 31,000 Haitians who entered in the last weeks through the Augusto C. Sandino, the sum of 1,371,130 dollars was collected.
Stéphanie Armand, spokeswoman for Sunrise Airways, who was contacted by the Associated Press (AP) news agency, said that the airline made at least 15 flights during the second to last week of October. She explained that the company does not sell tickets to Nicaragua but is hired by "third parties" to carry out the flights. She did not elaborate on who the third parties were.
When asked if the airline's services are being used by human traffickers to carry out migrations to the United States, Armand said that the company verifies passengers' documents before boarding. "As an airline and aircraft operator, we have no information about the intentions of the passengers we carry," Armand wrote. "If passengers meet the requirements to enter the country and are admitted, it is up to the authorities, not the airlines, to follow up on their status."
The unofficial, juicy charge
Another unofficial charge that the immigration authorities impose on Haitian migrants – and which they have begun to apply to Cubans – is a tax on entry into Nicaragua. As a general rule, all foreigners entering Nicaragua "must pay a tourist tax of ten U.S. dollars".
"Citizens of the CA-4 countries (Honduras, El Salvador, Guatemala and Nicaragua) are exempt from this fee," states the EAAI. However, migrants are charged between US$150 and US$200 for entry. This is a discretionary charge, insist two sources close to the Augusto C. Sandino airport.
"The immigration official decides how much to charge migrants, but it is usually between $150 and $200. These people come desperate to pass to the United States and end up paying that money. They bring money because many sell their homes, belongings or other family members in the United States finance the trip, so they pay so they won't be detained. When they pay, some are given a handwritten paper by the immigration officer giving them five days to leave Nicaragua. In other cases they are given nothing and others do not even get their passports stamped. It is all discretionary and even lends itself to corruption among agents because everything is in cash," insists another source close to Nicaraguan Migration and Foreign Affairs.
If one calculates that 31,000 Haitians have entered in the last few weeks for an average charge of US$150 each, the Ortega-Murillo regime earns US$4,650,000s.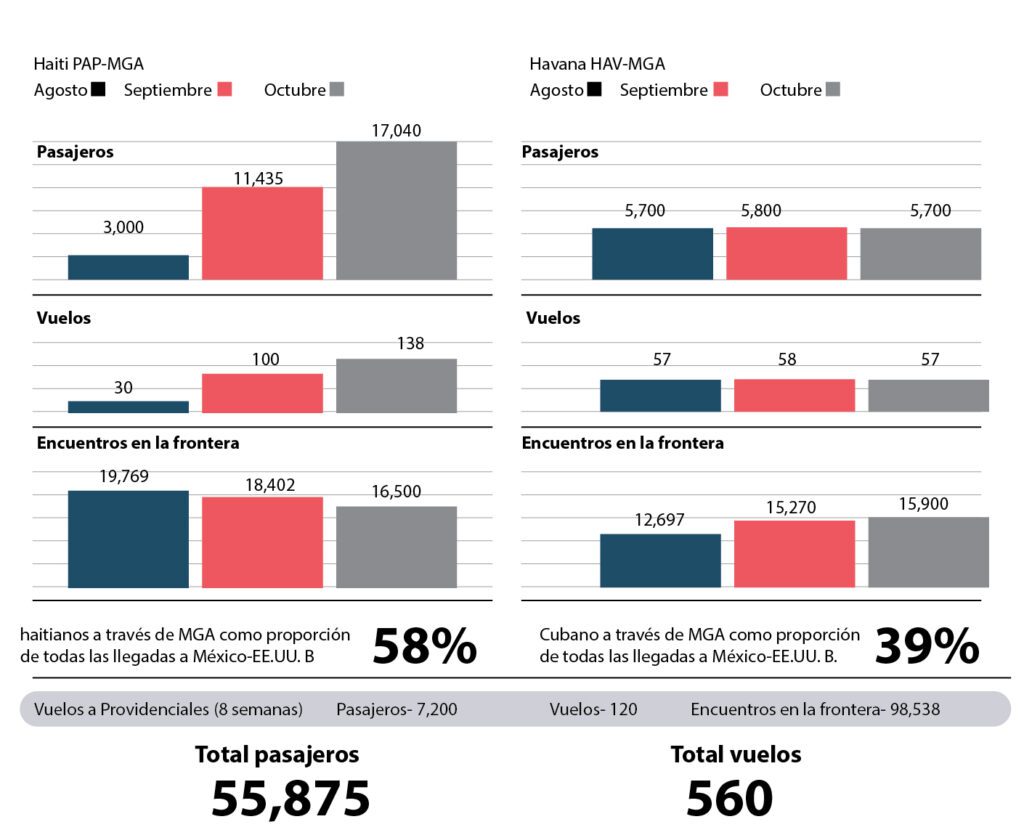 Manuel Orozco, the migration expert from the Inter-American Dialogue, points out in his most recent report that flight data from August to October 2023 points to more than 260 charter flights arriving in Managua with an average of more than 30,000 Haitians.
"This accounts for almost 60% of all Haitian arrivals at the U.S.-Mexico border. Something similar happens with flights from Havana to Managua, which add up to about 50 monthly flights during 2023, that is, 5700 passengers on average per month, 40% of the number of arrivals at the U.S.-Mexico border."
The report presented this November 1 highlights that between June and October 29, 2023, Nicaragua doubled the number of arrivals, with an estimated total of 60,000 passengers. Since January, when it began offering charter flights from Havana to Managua, Managua has been a bridge for almost 100,000 people, or 4.5% of all irregular entries to the U.S.-Mexico border.
"Nicaragua is weaponizing migration to attack the United States. For Ortega and Murillo it is officially and publicly expressed that the United States is an 'enemy country, conspirator and propitiator of coups', so the regime has deliberately facilitated this process," Orozco tells Redacción Regional.
" Also, with the authorization of the director of Civil Aeronautics to conduct these charter flights. The act itself, is also a violation of international norms on the orderly and regularized mobilization of people".
---
The information we publish in DIVERGENTES comes from contrasted sources. Due to the situation in the region, many times, we are forced to protect them under pseudonymity or anonymity. Unfortunately, some governments in the region, including the Nicaraguan regime, do not provide information or censor independent media. For this reason, despite requesting it, we cannot rely on official, authorized versions. We resort to data analysis, anonymous internal sources, or limited information from the official media. These are the conditions under which we exercise a profession that, in many cases, costs us our safety and our lives. We will continue to report.