Nicaragua's ambassador to the Organization of American States (OAS), Arturo McFields, resigned his post in March 2022. His decision brought him reprisals from his former bosses, Daniel Ortega and Rosario Murillo, who in February 2023 stripped him of his Nicaraguan nationality and confiscated his assets.
Although he no longer sits on the Inter-American body, he remains connected to the world of diplomatic relations in Washington. He knows firsthand the ins and outs of an OAS that is going through a moment of political inconsequence in the face of authoritarian regimes in Latin America.
The effectiveness of the OAS, McFields analyzes in this interview with DIVERGENTES, stands out the most with the Ortega-Murillo dictatorship, whose decision to withdraw Nicaragua from the organization materializes this November 19, 2023. "The OAS was effective in the last century. We saw it with Somoza (…) But now, at present, the OAS has been overtaken by the so-called dictatorships of the 21st century. And Nicaragua is the first dictatorship to make the OAS look unprepared," McFields states.
What is most worrying is that the pattern set by the Ortega-Murillo family is repeated by other authoritarian regimes in the region, such as Guatemala, where the organization's mediation in the political crisis has failed to stop the attacks by the Public Ministry against the elected president, Bernardo Arévalo, and his party, Movimiento Semilla (Seed Movement).
"It desperately needs to reinvent itself: what happened with Nicaragua should be a lesson", recommends the former ambassador in this interview in which he also recounts details of the Ortega-Murillo Foreign Ministry.
OAS insists Managua not to disassociate itself from its commitments
This November 19, Nicaragua leaves the OAS and the Permanent Council issued a resolution in which it warns that Managua cannot disassociate itself from its commitments to defend and promote human rights. What are the real and practical implications of this, taking into account that the Ortega-Murillo have always ignored everything urged by the organization?
In the first place, I am very happy about the resolution because we are in a context in which most of the countries that make up the OAS are sympathetic to leftist regimes. If you try to address the issue of Venezuela, what is happening with Maria Corina Machado, it is impossible; they block it immediately and those issues are not put on the agenda. If you try to address the issue of Cuba, you are immediately blocked by all countries. But here comes the part that makes me happy: when you say let's address Nicaragua, there is an extraordinary consensus, from presidents like Mexico, Brazil and Colombia…. And you say, how good that is; it is good for the cause of democracy and human rights.
That is the part that for me is salvageable. Now, what is not salvageable? The withdrawal of a State from an inter-American organization such as the OAS. Undoubtedly, it is a blow to democracy and human rights that cannot be minimized. In other words, now it is Nicaragua, Venezuela (Nicolás Maduro's government) and Cuba. There have also been countries such as Bolivia that have insistently threatened to leave the OAS. Andrés Manuel López Obrador has said that the OAS should not exist, that it is useless. These are strong statements. Lula (da Silva) has visited Washington and has not come to the OAS, not even to make a protocol greeting. So these are messages with which you do not have to say anything, you simply show that you do not believe in that organization.
Then there was an important dialogue between the European Union and Latin America and the Caribbean, and instead of choosing the OAS forum, they chose the CELAC Forum. So there is an interest in gradually reducing the relevance and preponderance of the OAS to make way for CELAC. Because of these real conditions, I believe there is hope in the issue of the resolution, but if we consider that when Nicaragua was a member not much could be done, it is much more challenging to do something when it is no longer a member of the organization.
The OAS had to issue a resolution and a legal opinion saying that, even if Nicaragua leaves, they do not lose their responsibility before the various inter-American organizations such as the IACHR (Inter-American Commission on Human Rights), the Inter-American Court, the Inter-American Commission on the Rights of the Child, for example, or the Inter-American Commission against Terrorism. So these are aspects in which Nicaragua still has a responsibility that it cannot ignore. But in practice, the OAS is an excellent political forum and what happened with Nicaragua has set a very negative precedent for them. Now we see it repeated in some countries like Guatemala, in this situation with the elections.
When you say a negative precedent, could we refer to the effectiveness of the OAS, in the sense that they issued dozens of statements on the Ortega-Murillo totalitarian approach, but nothing had any effect? In other words, is the OAS a toothless instrument against authoritarian regimes?
The OAS was effective in the last century. We saw it with Somoza. The position they took helped a lot. We saw it with the peace process in Nicaragua, we saw it with the holding of the first free, fair and transparent elections in the history of Nicaragua. We saw it when they wanted to give a coup d'état to Enrique Bolaños…. But now, today, the OAS has been overtaken by the so-called dictatorships of the 21st century. And Nicaragua is the first dictatorship to make the OAS look unprepared.
The pattern set by Ortega, if you notice, is already being repeated by Alejandro Giammattei in Guatemala. Why do I say this? He invites the OAS, signs agreements and supports OAS resolutions. Err… Ortega did all that, but Giammattei never questions the actions of prosecutor Consuelo Porras and Rafael Curruchiche. Again, it is something similar to what Ortega did: he signed, invited, accompanied, but never dismantled repression and arbitrary arrests. Ortega is a school of abuse.
The Democratic Charter fiasco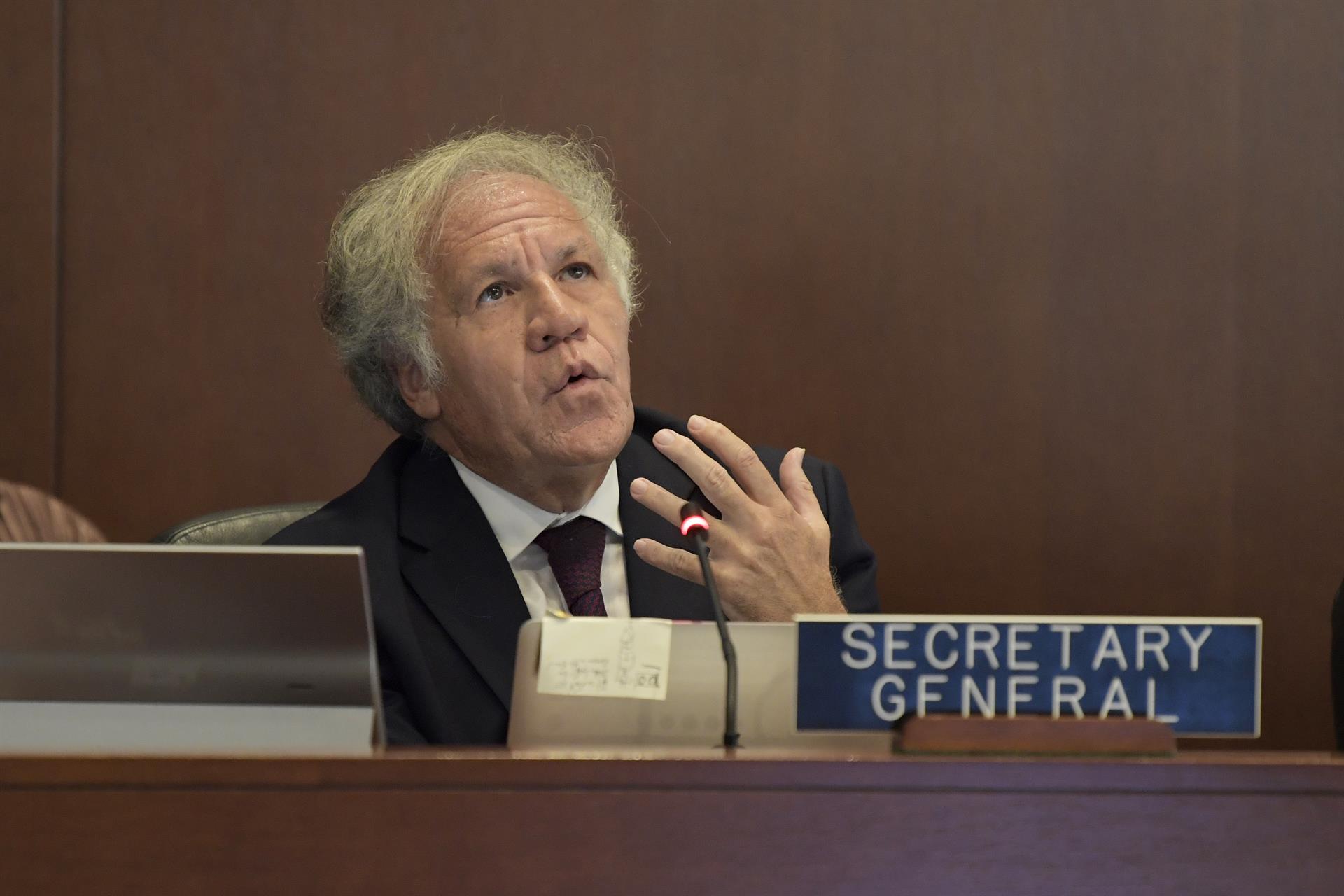 Arturo, you were inside, you know well, let's say, the OAS inner workings. Why was it never possible to reach consensus among the member countries to apply the Democratic Charter, when they had such repressive brutality of the Ortega-Murillo family in front of them?
As I say, Ortega played games with the OAS. He gave the appearance that he wanted some kind of understanding or peaceful exit. He played by the rules, he said: "we are going to make electoral reforms, we are going to work with a mission".
When Wilfredo Penco arrived in Managua in 2017?
Yes, and then it was said that the IACHR was going to visit Nicaragua and the IACHR arrived. What more did you want? Almagro was going to arrive, Almagro arrived. Moreover, Ortega was so clever that, while he was doing that, he even sent Francisco Campbell to meet with Marco Rubio here, in the United States, to tell him that we were already working with the OAS. Do you understand me? And at some point, although it was not so public, some OAS ambassadors came to Nicaragua. But that was just a clever move by the dictator to buy time. Then Marco Rubio said, "weren't they working with the OAS? but they have not complied with anything and they continue with the same repression".
Since Ortega's announcement to withdraw Nicaragua from the OAS, have you heard of any rapprochement or any actions taken by the OAS in this regard, such as trying to persuade them to avoid the exit?
Once Ortega violently retook control of the country, there was a change: Ortega no longer wanted anything, neither with the OAS, nor with the United States. He was already mounted and entrenched because he knew where he was going: to an authoritarian drift to the next level, which he was unpacking little by little, because even when I was there, in the OAS, in December 2021, there were conversations with Almagro. We were talking and working on the release of political prisoners. However, the dictatorship did not say no and did not say yes to release them either…. They simply received the letters, they received the communications from Almagro. And they also sent communications to the OAS through me, but they also sent them through Fidel Moreno. So you can see all the channels they used to send messages to Almagro. The OAS even used other ambassadors who had communication with the dictatorship to tell Ortega "look, we are going to be able to reactivate the dialogues, to free the prisoners at Christmas". In other words, there was a bombardment of communications, but, as I said before, the dictatorship did not say yes or no, because they had already foreseen what they were going to unpack later on.
That leads me to the next question, Arturo, who were those fundamental allies of Ortega and Murillo in the OAS?
Ortega was becoming a pariah. And when I talked to other ambassadors, I realized that. Because the first ones to want to get close to Ortega were Argentina and Mexico, but there was a very strong fight; insults and everything from the dictatorship. That is why Mexico sent its ambassador for consultations and Argentina also. Similar situations occurred with Bolivia, when the MAS (Movement Towards Socialism) party returned to power. The Bolivians tried again to get closer to the dictatorship, but failed. Various people were sending them messages, not that they should change, but that they should at least play the political game they had played in 2018. Some message. But Ortega did not want to. And on the contrary, Ortega was fighting with Mexico, with Argentina, and even with Bolivia with some terrible statements; in other words, they had nothing to do with diplomacy. The only country with which Nicaragua stays in the OAS at a certain point was St. Vincent.
With "Uncle Ralph"…
Even with "uncle Ralph", at a certain moment, they fought. Why? Because Ortega wants to sabotage Argentina's presidency of CELAC and says no, "my candidate is St. Vincent"… but Uncle Ralph comes and says, "I am not going to accept; stop this madness, because I want to support Argentina and then the following year they will give CELAC to me". You realize that Ortega was alone in spite of the efforts made at certain times by leftist countries to get closer. The authoritarian drift was only increasing… You see this loneliness that Ortega has harvested when he celebrates July 19 and nobody shows up. Why didn't Evo Morales show up, even when he is no longer president? Other prominent Cuban figures did not show up for this last July 19. It is a very deep loneliness that has forced him to look for friends in countries like Belarus and Burkina Faso, etcetera. But in this hemisphere Ortega is quite lonely now.
What do you think leaving the OAS could mean in practical terms for the citizens of Nicaragua?
At this point I don't know if there would be a dramatic difference, compared to three months ago to what is going to happen in a few weeks. Because they had already done what no one else had done: confiscate the rented OAS facility in Managua. Ortega destroyed all bridges and closed all doors. That is the hardest part, whether you want it or not… if a State does that, it affects the relationship with the organization. You don't have that dialogue that you had before. When I was still at the OAS, there was communication with the IACHR, for example. I remember that on one occasion the IACHR called me one weekend and told me that they had abused a political prisoner. I called Managua and told them "look, this happened". What I want to tell you is that there was communication up to a certain point. However, little by little, Ortega was closing all the doors and I noticed it, because I tried to do the minimum diplomatic work and it was not possible, it was not possible!
The three chancelleries of the Ortega-Murillo dictatorship
When you say "I called, I was doing diplomacy", with whom did you coordinate in Managua, that is, with whom did you define the statements you read at the OAS, Nicaragua's positions?
Generally it was communications with Rosario Murillo or with Deputy Foreign Minister Arlette Marenco.
So is it true what is said, that it is Vice President Murillo who controls Nicaragua's diplomacy, passing over Foreign Minister Moncada himself?
Technically, there are three chancelleries in the Ministry of Foreign Affairs in Managua: that of Moncada, that of Arlette Marenco and that of Mr. Luis Cañas, the man who takes away passports.
And how do they differ, or what are their functions?
Well, Moncada is the president's man and is the reader par excellence of statements and information. Luis Cañas executes the part of repression and espionage in everything that has to do with foreign relations, entering and leaving the country; but also internally, when it comes to investigating something, he is the main figure. Then you have Arlette Marenco, who is Rosario's hand.
Do these three fronts compete with each other, do they have friction or do they coordinate?
Sometimes they handle compartmentalized information. That is why sometimes the Chancellor does not have the slightest idea of what is going on, because there is communication that is only filtered through one channel, another one through another channel and sometimes they share it with everyone. Depending on the occasion and depending on the interest.
Resignation "was a process"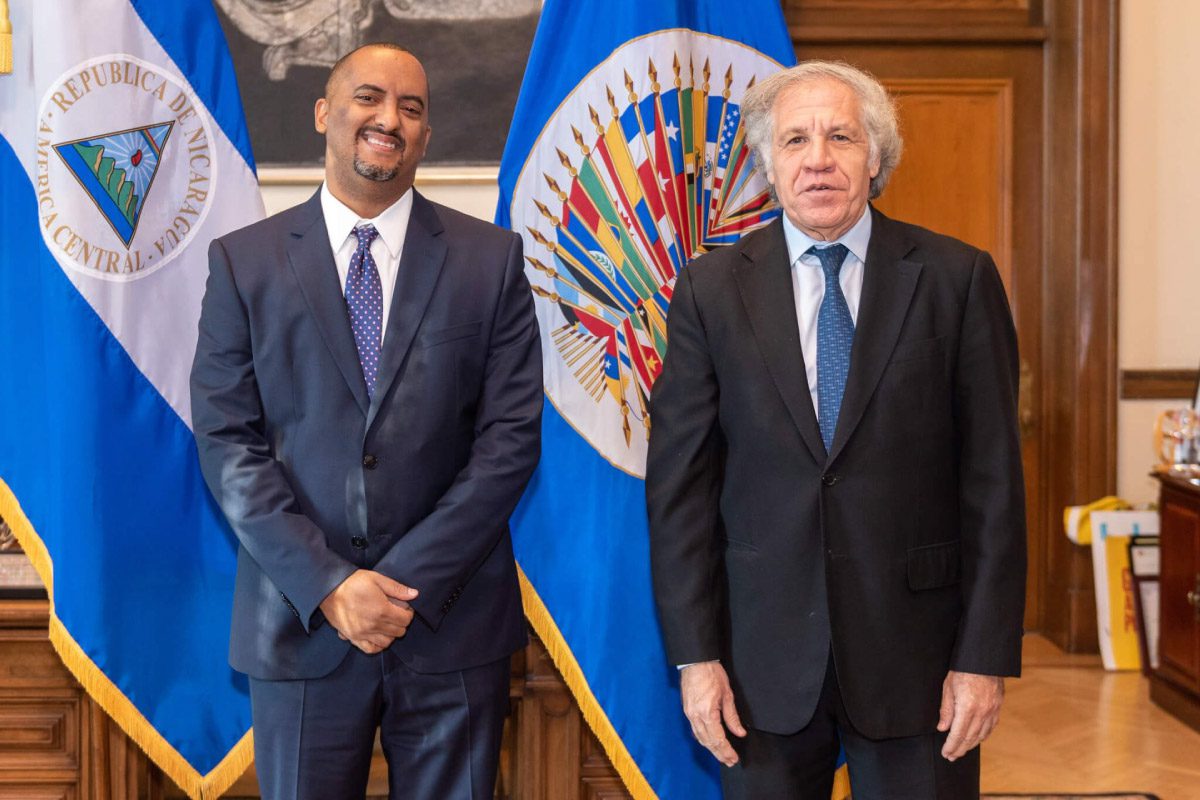 Arturo, how was your personal process of deciding to say I am going to resign as ambassador, taking the risks involved in abandoning such a repressive dictatorship?
Note that these are personal processes. I would say that is the most important part, because your decision affects many people…. Your wife, your children, your family. In other words, it is knowing that you are facing unforgiving people. In this process there comes a moment when you explode. You also have to think about how to get out and at what moment it will be. It is a decision and a process. Some people say "you left because you were abroad". Still today I am waiting for more ambassadors to resign, who are abroad and do not do it. In the 80's we did not see any ambassador doing it either. Why am I telling you this? Because people think it is easy, but it is not, but in the 80's we would have seen it in other forums, but no. It is not so common, but I think it is also a generational issue. I don't know, I think it is more difficult for older people to make a decision, because they already know what they are in.
Each one of us who have resigned has our own history. And if you look at it, there are few of us who have done it in a vocal, public way. They can be counted with one hand, at least as far as I can see. We are only Ligia Gómez (from the Central Bank), Yader Morazán (from the Judiciary) and myself, because resigning to go into hiding, or to take a suitcase filled with money… I mean, please, didn't you want to pay the price of confiscation? You didn't want to pay the price of losing everything.
Aside from the nationality stripping, confiscation of goods that all of us who have suffered this have gone through, what other reprisals did you or your family suffer?
More than anything it is in an emotional aspect, because remember that my father is a Sandinista. So there was a very strong aspect of rupture, but that had to be done, because I have to make my personal decisions, as he did.
And if I am not mistaken, in the act of July 19, 2023 they paid tribute to him?
I would not like to talk about that part. It was something that made me very sad. I feel that they humiliated him and that they did it to hurt me. That's all.
What does former Ambassador McFields do today, what does he do in exile?
I have three jobs to survive. Some pay me well, some pay me more or less. But there is nothing richer than knowing that the money you are earning is honest. That you have the freedom to say what you want. That's priceless. I don't have mansions, I don't have anything to drop dead on, but I have a clear conscience and I have freedom. That is an extraordinary thing for me. It is difficult because you are in another country that speaks another language. Even though you can speak it a little bit, it is still another language.
But also your documents, your degrees, so many things that you have to update. You have to start your life from scratch and start building. Suddenly you find yourself in the following situation: you do the job you like, which is journalism, which is international relations, sometimes television, but then there is the job that gives you money to eat, to pay the electricity and water bills. You have to do all that to make your way and not let your dreams die, because when you are in this country, it is easy to let your dreams die and forget about the Nicaraguan cause. You can say "I'm working and forget about Nicaragua". And no, we must not forget about Nicaragua, that is, we must continue with the subject, even if we get bored. Those are the challenges, that is, to guarantee your daily bread, but not to forget about your dreams or about Nicaragua and to continue doing what you can.
What is your dream today in exile, Arturo?
My dream is that my daughter can know her country. My dream is that my daughter can eat a gallopinto, a vigorón in Nicaragua; that she can go to the places where I grew up, that she can get to know all that. In other words, for me that is priceless…. Especially at Christmas; these days it hurts a lot. It's a very ugly thing that comes to you, because you remember the smells, the food, the atmosphere. Those things hurt. And that is your dream: that, somehow, your country will be free. Now, my personal dream? My personal dream is to work a little more on international relations in the United States; for doors to open at a university where I can put into practice what little I know. I finished my degree in journalism and everything, but I also started to get a master's degree in International Relations because I was interested in the subject and because I was at the OAS. The OAS has something good that will not be denied: it is a perfect place to learn how Latin America works.
I think that the OAS, today, desperately needs to reinvent itself: what happened with Nicaragua should be a lesson for the OAS, to find a way to rethink itself in order to be able to face these challenges. So I believe that these are challenges for the OAS. The problem is that when you are in the OAS you get distracted by celebrating Book Day, Father's Day, Mother's Day, the Women's Day cocktail, the special session on Dog Day… and when you realize it, your agenda is full of activities. But they are not substantial because the elephant in the room is not mentioned.
I repeat, right now the issue of Maria Corina Machado in the OAS is forbidden, it is not being discussed in any Permanent Council and it is serious. The issue of Peru is still serious and, however, look how they took it off the agenda. So it is a body in which you can easily have 10, 20 activities and none of them has any substantial aspect. I am referring to issues of interest such as political prisoners, free elections, human rights… I am friends with some ambassadors whom I appreciate very much, such as Professor Washington Abdala, and you see in them a genuine commitment to democracy and human rights. But not all ambassadors have this disposition.
---
The information we publish in DIVERGENTES comes from contrasted sources. Due to the situation in the region, many times, we are forced to protect them under pseudonymity or anonymity. Unfortunately, some governments in the region, including the Nicaraguan regime, do not provide information or censor independent media. For this reason, despite requesting it, we cannot rely on official, authorized versions. We resort to data analysis, anonymous internal sources, or limited information from the official media. These are the conditions under which we exercise a profession that, in many cases, costs us our safety and our lives. We will continue to report.