Alberto has very bad memories of a teacher who, in 2009, taught him one of the first subjects he took when he was a student at the then faculty of Humanities and Legal Sciences. That teacher had a habit of missing exams and arriving late to class.
"It was a disaster. Many of us had to take special tests to pass math classes (that the teacher taught), because he would lose papers or add topics that he had never explained," says the student, whose name is being withheld out of fear of reprisals.
It was professor Alejandro Genet, who by then was already proving to be a loyal militant of the Sandinista Front, which had just come to power, and who is now the rector of what was once one of the most important and prestigious universities in the country.
Former UCA, now controlled by pro-Ortega operators
Former Central American University (UCA), named Casimiro Sotelo National University after its confiscation by the Sandinista dictatorship, is experiencing administrative inefficiency, which some education experts believe is due to people loyal to the Ortega-Murillo dictatorship being in charge of the institution.
All of them, like Alejandro Genet, the teacher who lost exams, are recognized Sandinista sympathizers bordering on fanaticism. But they have limited qualifications to lead a university as large and administratively complex as UCA.
In 2009, and for most of his career, Genet taught subjects like mathematics, which were the basis of the first years of university.
According to his resume, he has been teaching for more than 40 years at National Autonomous University of Nicaragua (UNAN). He studied education at Universidad Central de Las Villas in Cuba and has a master's degree in Methodology of Mathematics Education.
He has a Bachelor's degree in Educational Sciences, with emphasis in Mathematics and Teaching Methodology. He worked as Dean of the Education and Languages Department at UNAN.
A history of disorganization
Even with such a background, Genet's students disapprove of his unpunctuality and irresponsibility. "We had classes with him twice a week. One of them was first thing Monday morning and the other I remember was Friday. At one point, he moved the latter from Friday to Wednesday, he changed the schedule and almost all of us, mainly coming from other cities, arrived early and we would always lose that time because he never arrived," recalls Alberto.
He also missed several exams, which resulted in at least two students failing the subject due to his irresponsibility. "I see him as someone irresponsible, who was more concerned about his other duties as dean than being a teacher at the time," the former student said.
An inoperative university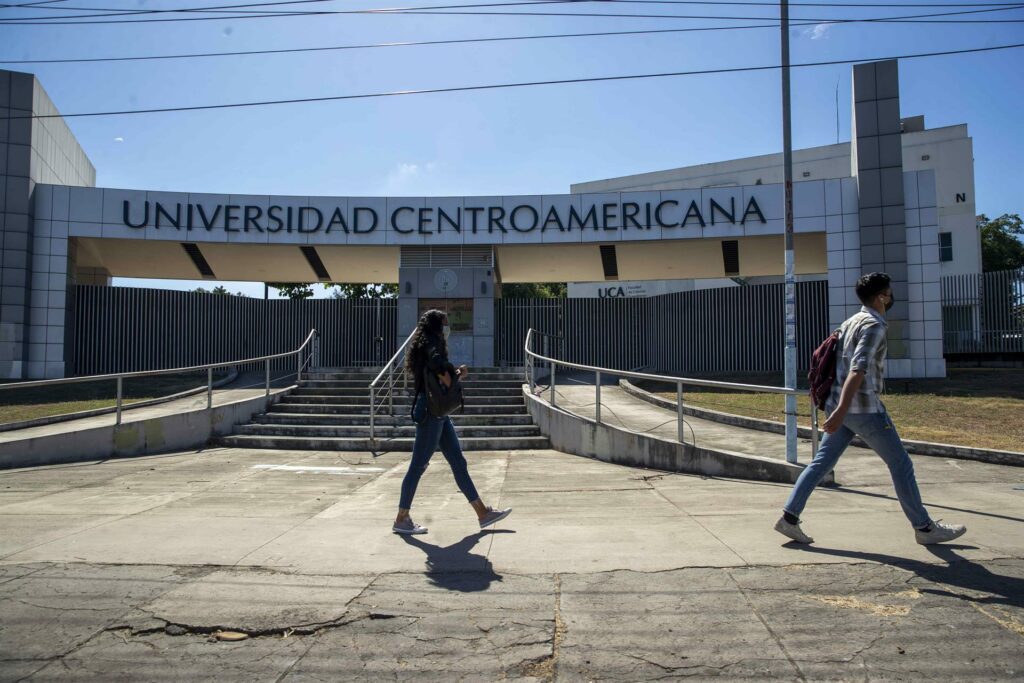 August 18, 2023 was a dismal day in the history of higher education in Nicaragua. The dictatorship of Daniel Ortega and Rosario Murillo confiscated UCA, in an act where the red and black Sandinista flag was raised inside the university campus. Something unthinkable, but to be expected in a country governed by a totalitarian regime that pushed repression to new extremes.
Since the citizen protests of 2018, UCA was a bastion that for months, when Daniel Ortega and Rosario Murillo banned protests, upheld the population's demands for justice and democracy.
Every now and then, inside UCA, students organized protests that activated police presence in all university surroundings.
Some of the main faces of the university movements that stood up to the dictatorship were UCA students, such as Lesther Alemán and Madelaine Caracas, who participated in the first national dialogue that sought a "democratic" solution to the crisis.
The day when Ortega took over UCA
Thus, the day the red and black flag entered the university, together with members of the Sandinista Youth and a line of authorities loyal to the regime, the future of thousands of students who, in the midst of repression, were seeking an academic option independent of the ruling party, was shattered.
Many of these students were just a step away from graduating, and others were in the process of obtaining their academic degrees. The dictatorship appointed a series of authorities who were little known in Nicaraguan academia, or who made little contribution to research.
Luz Marina Ortiz, now vice rector of Casimiro Sotelo, was the general secretary of Ricardo Morales Avilés National Multidisciplinary University, another of the universities created by the dictatorship following the confiscation of Paulo Freire University, Popular University of Nicaragua (Uponic), Hispano-American University (Uhispam) and Nicaraguan University of Humanitarian Studies (UNEH).
While Moisés Ignacio Palacios, appointed secretary general at Casimiro Sotelo, was vice dean of the Faculty of Economic Sciences at UNAN-Managua.
"The fact that to this date the classes at that university have not resumed is nothing more than a sign of incompetence of the people they put in charge, and also of the terrible calculation made by those responsible for that decision. They were totally unaware of the complexity and functioning of a university like UCA," remarked scholar Ernesto Medina, former rector of Universidad Americana (UAM) and one of the people who knows Genet.
Alejandro Genet's entire semester was a waste of money
This November 6, the authorities of Casimiro Sotelo University announced through the dictatorship's media that classes will begin on January 15, 2024, both for returning and new students.
Genet indicated that pre-registration "will take place from November 27 to December 6, while special registration will take place from December 11 to 16".
This is the third time that the Ortega-Murillo regime announces a new date for the beginning of classes in that university, completely affecting the last semester of the academic calendar.
"The first thing that is striking about someone like Alejandro Genet is how long he has been dean at UNAN-Managua. One can say, without fear of being mistaken, that he has been responsible for the training of many secondary school teachers who have worked in that faculty. In my opinion, it is a rather poor balance, because we all know that one of the problems of education in Nicaragua is the scarce or poor training of teachers at all levels," added Medina.
Sandinista militant before scholar
Medina describes Genet as "the typical party militant", who has such an important academic position as rector, not because of his merits, but because of his loyalty to Sandinismo.
For scholars like Medina, it is impossible to quantify at this time the damage the dictatorship is causing in the country's educational landscape, but he is sure it will be immense.
"They have destroyed a very important university, fundamental for Nicaragua and for the future of the country. They are putting at risk the future of thousands of young people who are totally helpless, in limbo and subjected to such arbitrariness that someone will one day have to answer for it and, obviously, one of the people who will have to answer for this is Alejandro Genet," he said.
---
The information we publish in DIVERGENTES comes from contrasted sources. Due to the situation in the region, many times, we are forced to protect them under pseudonymity or anonymity. Unfortunately, some governments in the region, including the Nicaraguan regime, do not provide information or censor independent media. For this reason, despite requesting it, we cannot rely on official, authorized versions. We resort to data analysis, anonymous internal sources, or limited information from the official media. These are the conditions under which we exercise a profession that, in many cases, costs us our safety and our lives. We will continue to report.